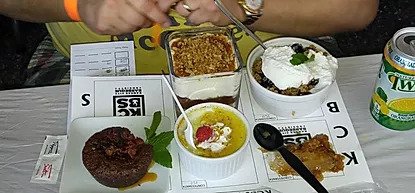 Friday Night, 7:00pm
Beer Garden
The Anything Butt (Dessert & Non-Dessert) competition is an optional contest for those cook teams competing in the KCBS sanctioned event. Certain sponsors and special guests will be selected as judges. The event will take place Friday night at 7:00pm in the Beer Garden.
Rules & Regulations (Dessert)
Anything Butt (Non-Dessert) is any meat other than the four KCBS categories (Chicken, Pork Ribs, Pork & Beef Brisket)
"Anything Butt" Chicken. Other poultry such as duck or Cornish hens are acceptable.
"Anything Butt" Spare Ribs, Loin Back Ribs Country style ribs are acceptable.
"Anything Butt" Pork Shoulder, Boston Butts. Any other part of the pig is acceptable.
"Anything Butt" Beef Brisket. Any other part of the cow is acceptable.
Seafood, turkey, veal, or any meats that are purchased at a grocery store are allowed in the contest.
Generally anything goes. This is meant to be a fun and creative category. Tantalize our taste buds!
Recipe may be marinated or injected, and this may be done before arrival.
Recipe may be baked, broiled, barbecued, grilled, fried, etc.
Recipe may include garnish. Make it as pleasing to the eye as you wish.
Recipe may be served as a casserole, stew, salad, hors d'oeuvre, etc.
All cooking and preparation will be done on premises with the exception of marinating.
All cooking to be done on cookers and/or grills normally associated with the barbecue cook off.
Gas grills are allowed for Anything Butt. Microwaves and ovens not allowed.
The entry must be the work of an individual team. One entry per team.
Rules & Regulations (Non-Dessert)
Desserts must be prepared on site in your team space & not be store bought.
Use any heat source to prepare dessert.
The entry must be the work of an individual team. One entry per team.
Judging
Entry can be in Styrofoam 9" x 9"container provided by Peak City Pig Fest or you may use your own container. You must affix the numbered label to the bottom of your container.
No names on your containers allowed. (Peak City Pig Fest is not responsible for returning your containers or decorations/garnishes, but will have them available for pick up after judging.)
Entry can be a minimum of 6 pieces preferably more for others to sample. In the dessert category, whole cakes and pies may be submitted uncut.
Judging will be on Friday night using the "blind judging" technique (modified KCBS format).
A judging team will judge entries with the lowest score being dropped.
Judging based on following:

Appeal & Innovation – can't wait to taste it.
Taste – pleasing overall flavor or contrast of flavors. Any sauce not too hot, sweet or commanding. The taste score will be doubled.
Tenderness & Texture – neither undercooked nor overcooked; just right, not to dry or wet

All entries will be presumed average, a score of 5, and will be judged above or below from 1 to 9. In the event of a tie, the prize money will be divided equally.